Where possible, RSMG attempts to bring both clarity in thought and rigorous analysis towards complex policy problems. By continuing to engage in the public debate, RSMG aims to provide transparency in understanding the choice set society faces.
To date, RSMG has run two workshops.
2012 Carbon Pricing
A book has developed from this Workshop. It is "Carbon Pricing: Early Experience and Future Prospects" edited by David Adamson, John Quiggin and Dan Quiggin. It is published by Edward Elgar, Cheltenham, UK and is currently in press.
2010 Water
On 30 March 2012 the book from the 2010 workshop "Water policy in the Murray-Darling Basin Workshop: Have we finally got it right?" on was released.  The book is titled: "Water Policy Reform: Lessons in Sustainability from the Murray-Darling Basin" and was edited by John Quiggin, Thilak Mallawaarachchi and Sarah Chambers.  It is available from Amazon for pre-order (here)
On October 26-26 2012 RSMG held its second workshop titled: 'Carbon Pricing: Early Experience and Future Prospects' at the Brisbane Convention and Exhibition Centre, South Bank, Brisbane
Like the 2012 workshop it was an invite only event and was opened by Professor
Talks from Day 1:
Welcome:
| | | | | |
| --- | --- | --- | --- | --- |
| Session | Title | Speaker | Affiliation | Slides |
|   | Opening Address | Professor Høj | The University of Queensland (UQ) |   |
| Development ofa carbon Price | The science of climate change | Dr Ben McNeil | UNSW | Yes |
|   | Reflections on the economics of Australia's carbon price | Professor Ross Garnaut | Melbourne University |   |
|   | Carbon pricing in Australia: an early view from the inside | Dr Steven Kennedy | DCCEE | Yes |
|   | Receptions and political implications | John Cook | UQ | Yes |
|   | Discussant | Dr Tiffany Morrison | UQ |   |
|   |   |   |   |   |
| Future Challenges | Assessing the impacts of carbon pricing on the Australian Electricity industry using the ANEM model | Professor John Foster & Dr Phil Wild | UQ | Yes |
|   | Climate change and the precautionary principle | Professor John Quiggin | UQ | Yes |
|   | Discussant | Dr Anke Leroux | Monash |   |
Have we finally got it right?

Thursday 21 to Friday 22 October 2010, Rydges South Bank, Brisbane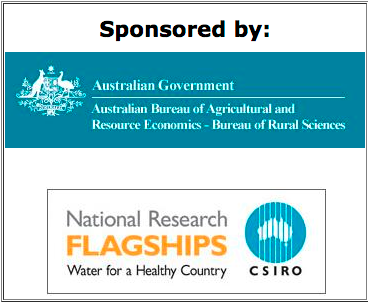 The aim of the workshop is to provide a forum for an in-depth analysis of water allocation issues in the Murray-Darling Basin from a social policy perspective. The forum will bring together a number of prominent contributors from academic, policy and practice disciplines to lead the discussions. 
Our objective is to examine the competing economic and environmental considerations driving the policy debate under conditions of uncertainty and variability. Our task is to draw on differing viewpoints to distil the key influences that have shaped the Murray-Darling Basin experience as a living experiment in social policy. During this period we witnessed the transition of the social value of water from a single dominant use in agriculture to a multiple use resource contributing to a range of consumptive and conservation uses.
Workshop Program
The Program for the Water Policy in the Murray Darling Basin Workshop can be found here.
Papers and Presentations
The powerpoint presentations for each of the sessions can be found as hyperlinks on the Workshop Program page.
Participation
Participation in the workshop is by invitation only. However there are a limited number of places reserved for other interested parties. If you are interested in attending please contact the workshop organisers.
Venue
Rydges South Bank is located at 9 Glenelg Street, Southbank, in the heart of Brisbane's arts and entertainment precinct. A group booking has been made to reserve rooms for workshop attendees at a discounted rate. For more details, please contactSarah Chambers.
Invited Speakers
| | | |
| --- | --- | --- |
| Name | Affiliation | Position |
| Prof Jeff Bennett | Australian National University | Director, Environmental Economics Research Hub |
| Dr Keith Bristow | Commonwealth Scientific and Industrial Research Organisation | Team Leader, Tropical Irrigation Systems |
| Dr Jeff Connor | Commonwealth Scientific and Industrial Research Organisation | Research Team Leader |
| Dr Wendy Craik AM | Productivity Commission | Commissioner |
| Prof Lin Crase | La Trobe University | Professor of Applied Economics |
| Dr Hamish Cresswell | Commonwealth Scientific and Industrial Research Organisation | Stream Leader, On-Farm Water Use |
| Mr Tim Cummins | Tim Cummins & Associates |   |
| Dr Sally Driml | University of Queensland | Senior Research Fellow |
| Mr Will Fargher | National Water Commission | General Manager, Water Markets and Efficiency Group |
| Mr Robert Freeman | Murray-Darling Basin Authority | Chief Executive |
| Mr Peter Gooday | Australian Bureau of Agricultural and Resource Economics – Bureau of Rural Sciences | Manager, Productivity, Water and Social Sciences Branch |
| Prof Quentin Grafton | Australian National University | Director, Centre for Water Economics, Environment and Policy |
| Prof Paul Greenfield | University of Queensland | AO, Vice-Chancellor and President |
| Dr Mac Kirby | Commonwealth Scientific and Industrial Research Organisation | Stream Leader, Irrigation Futures |
| Ms Anthea McClintock | Cooperative Research Centre for Irrigation Futures | Research Economist |
| Mr Paul Morris | Australian Bureau of Agricultural and Resource Economics – Bureau of Rural Sciences | Deputy Executive Director |
| W/Prof David Pannell | University of Western Australia | Winthrop Professor/ARC Federation Fellow |
| Prof Hugh Possingham | University of Queensland | Director, Ecology Centre |
| Prof Helen Ross | University of Queensland | Professor of Rural Community Development |
| Dr Alistair Watson | Freelance Economist |   |
| Prof Mike Young | The University of Adelaide | Director, Environment Institute |
Workshop Organisers